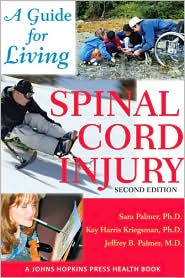 Written by Sara Palmer, Ph.D.,
Spinal Cord Injury: A Guide for Living
discusses many of the challenges faced by individuals with spinal cord injuries, such as independent living, family life, employment, and housing. It includes recent medical research and true stories of people living with spinal cord injuries, as well as the social issues involved after recovery. In a recent review, the Disability Studies Quarterly said the following of Palmer's work: "This book does a very good job of taking someone from the moment of injury, to hospital and rehabilitation, and into adjusting to life and relationships with a disability. Anyone who has a friend, colleague, or family member confronted by this trauma might find this a useful gift in difficult circumstances." If you would like to find out more about
Spinal Cord Injury
, check it out at CeDIR today, or visit
worldcat.org
to find it at a library near you.